Trending Saree Styles this Season 2020
Sarees are timeless... which is why OneMinuteSaree.com went through all the effort to create a ready to war saree that anyone can wear with ease.   There are some styles though that are set to be the IT saree for this year:
1) The Ruffle Saree
We were a little skeptical at first, but what a fun and beautiful way to sprice up any festive occasion!! Go all bold and beautiful like Alia Bhatt with ruffle pallu paired with a strapless blouse - check out the saree options here.  Complete the look with big earrings and a middle-parted sleek ponytail, with or with out head gear - all available at KarmaPlace.com.
2) Tie-Dye - A modern take on Bandhani
Tie-dye sarees are perfect for any occasion. Anyone looking to stand-out in an effortless glamour can opt for this style, be it cocktail, pooja, wedding, or party!
3) Sequins
Who doesn't love a little bit of sparkle?? From Kareena Kapoor to Karishma Kapoor to Kriti Sanon, celebs are donning this simple yet extravagant style.  Check it out at Sequins Sarees at OneMinuteSaree.com
4) Floral Prints
The floral print trnd started last tear, but looks like it's here to stay.  From Priyanka, to Anoushka and Deepika, nothing gives a demure and classic look like  a floral print saree.  Check out our Floral Print collections at OneMinuteSaree.com 
5) NET
Last but not least.. the Net saree sheer elegance that shows off just enough ;-)!  This trend has been on and off, but its definitely ON this year.  Look at how Priyanka sizzles in understated elegance in this pink net sarees.  Check out our amazing collection of ready to wear One Minute Net Sarees.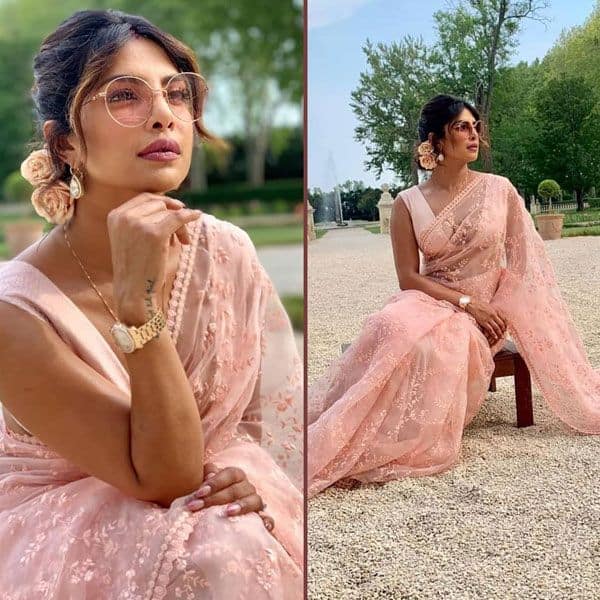 ---